North Central Illinois Pekingese Club
77th Specialty
June 18, 2011
We had a SUPER ENTRY and a SUPER SPECIALTY!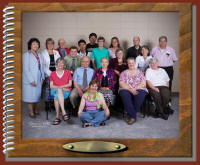 Judges: Mr. Steve Hayden, Regular Classes
Mr. Joe McGinnis, Sweepstakes
Win Photos Courtesy of


Steven J. Walker

BOB - Ch. Fandic Go For The Gold, Charlotte Karpinecz & Brenda Scheiblauer

WD - Careken's Pot of Gold, Donald & Janet Schneider

WB - Muhlin Sweet Charity, Patricia G. Metzger

RWD - Laro Artful Dodger, Roy & Larua Harrison

RWB - Maplewood's Little Touch of Wicked, Christine Smith

BISWPS - Dreamville The Black Prince, Raymundo Lo

BOSWPS - Maplewood's Touch of Pazzaz, Christine Smith

STUD DOG - Ch. Lon-Du Don Quixote, Arlon Duit

Candid shots around the show.
---